Ever drive you mad as you always missed iPhone calls? Always keep iPhone next to you for just waiting for an important call? The most common complaint about the iPhone is that the iPhone ringing volume is too low. Bigasoft created a program called iPhone Ringtone Maker. You can make and
boost iPhone ringtone volume to any desired level
for hearing your iPhone rings even at busy workplace or at home with TV on. You will not miss a phone call again.
Free downlaod and install Bigasoft iPhone Ringtone Maker (
Windows Version
,
Mac Version
).
Launch the ringtone maker by double-clicking the program icon on your Windows Desktop.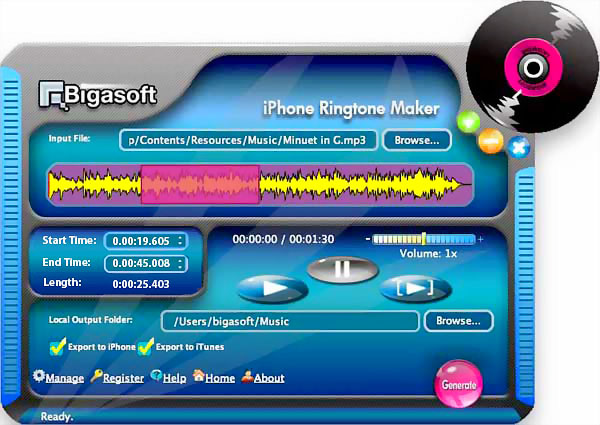 Locate the song you want to make into a ringtone for your iPhone in your music collection or in iTunes.
Make sure the song you are using does not have any copy protection.
Drag the song into Bigasoft iPhone Ringtone Maker.
Hit the "
Preview
" button to preview your ringer.
Drag the "
Volume Marker
" to any desired level to boost iPhone ringtone volume.
Dock iPhone and open it, connect iPhone to your computer through USB cable when you have completed editing.
Click "
Generate
". Bigasoft iPhone Ringtone Maker will create the loud ringtone and transfer it to your iPhone and iTunes automatically.
Enjoy
It is that simple. You can find Bigasoft iPhone Ringtone Maker at
www.bigasoft.com
.
Attention
You can use almost all audio or video file as long as there is no DRM or copy protection on it.
Media files purchased from the iTunes store have copy protection. These files will not work.
You will pay a bit for the ringtone maker, while the convenience of a one-click solution is usually worth the cost. As of this writing, the cost of this handy program is $14.95 and well worth it.
Annex
System Requirements for PC:
Microsoft® Windows® XP (SP2 or later), Windows Vista®, Windows® 7
To support direct transfer ringtone to iPhone, iTunes 7.4 or later are required.
1GHz Intel®/AMD processor or above
512MB RAM or more
30MB free hard disk space for installation
Super VGA (800 x 600) resolution, 16-bit graphics card or higher
System Requirements for Mac:
Mac OS X v10.4(Tiger), 10.5(Leopard), or 10.6(Snow Leopard)
To support direct transfer ringtone to iPhone, iTunes 7.4 or later are required.
PowerPC® G5 or Intel® processor;
512MB RAM or more
50MB free hard disk space for installation
Super VGA (800 x 600) resolution, 16-bit graphics card or higher
Resources